Dr. Carmen Cymbalisty
PEDIATRIC DENTIST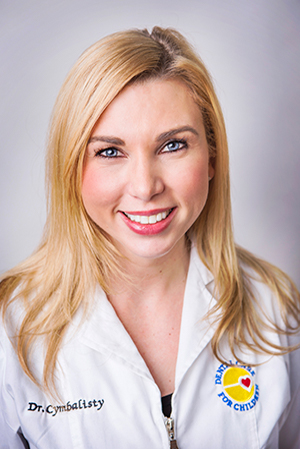 Dr. Carmen Cymbalisty has had the pleasure of working as a general dentist for the past decade. She graduated from the University of Manitoba as a Doctor of Medical Dentistry. She then went on to New York University College of Dentistry in New York, New York, where she completed two-years of intense specialty training in Pediatric Dentistry and Special Needs.
Half of her career was spent in the public sector, working for the Government of Canada providing dental services for First Nations people in remote communities of northern Manitoba. The other half of her career has been in the private sector in Manitoba as well as Grande Prairie, Alberta. She worked as both an associate and owned her own general practice.
Dr. Cymbalisty has worked with many patients with extreme dental fears. Her easy-going, cheerful nature lends itself perfectly to these unique patients, and having a gentle demeanor, a careful hand, and most importantly, empathy, has helped her win over many patients with dental phobias.
Her personal interests include enjoying time with her husband, weight training, exercising and perhaps one day returning to Figure Competitions. She's a real foodie and is very excited about experiencing many of the fine restaurants in Calgary.